In my Mailbox is hosted by The Story Siren
http://www.thestorysiren.com/
Here are my books for the week :
For Review:
Cry Ohana by Rosemary and Larry Mild
I received this from Publish America. A young boy witnesses a gruesome murder that makes him a fugitive and takes him on a great adventure.
From Paperback Swap: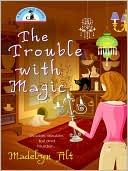 I've been looking for a lot of books for my Halloween event and I found this wonderful series by Madelyn Alt!
I also got the other three in the series:
A Charmed Death
Hex Marks The Spot
No Rest For The Wiccan
Looking forward to seeing what everyone else got!