I have been so impressed with what my friends have been doing to help others during Quarantine especially my Fangirls Going Rogue teammates. Sarah has been making masks, Teresa has been bringing the laughs with her amazing tik tok videos. Sandra is the Mamma bear checking in with us and keeping everyone inspired. And Tricia continues to share in depth commentary and discussion about our favorite galaxy and more.
I started the Quarantine very positive and engaged. I cleaned and sold lots of stuff online, did lots of yoga and meditation, donated what I could to some important charities and complied with the stay at home order.
I haven't gone this long without working for a very long time and so I've enjoyed time to do self-care. It's one of the things that's also helped me with my depression and feelings of isolation.
So this week I'm going to challenge you to do some activities that will enhance your well being.
Lets start with the FEET! As a massage therapist I see a lot of feet and so I can say that outside of the summer months lots of people don't give much attention to their feet.
So the first step is to actually LOOK at your feet! Now many of us have been in Quarantine so don't be too hard on yourself if they don't look their best.
Things to look for on your feet:
Are your heels dry and cracked? These can be a sign of dehydration so up your water intake, something that is easier while you are at home.
Also start a daily moisturizing routine at night. Cover your feet with lotion and put on a pair of socks and wear them overnight.
your nails as best as you can and use a nail file gently on callus's. If you notice corns or other problems with your feet make a note to see a podiatrist when things return to normal.
While at home avoid walking on bare feet. Get a pair of slippers or sneakers just for inside of the house. Walking barefoot tightens up your calves, and can even effect your hips and low back.
RUB YOUR FEET
I have gotten into the habit of rubbing my feet every evening while watching TV or after yoga. Foot massage stimulates a lot of points in the body. It's an instant relaxer and can lead to full body relaxation. Here is a simple reflexology map of areas in your feet that refer to other points of the body. It's fun to rub certain areas and see if you feel a difference in your body.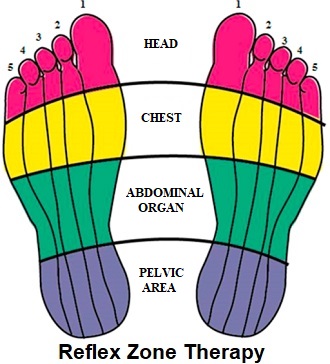 You can use regular lotion to massage your feet, grape seed oil or almond oil for your massage.
Learn how to massage your feet HERE
Here is a yoga routine for your feet from one of my favorite yoga teachers Yoga With Adrienne
Here is also a recipe I created to encourage relaxation and grounding. Be sure to test the individual oils on your wrist to make sure you aren't allergic:
GROUNDED IN THE HEART
3 drops cedarwood
5 drops cypress
2 drops rosemary
Mix in a small container of lotion or in a small bottle of oil


Let me know how your foot care goes!